Media Unlimited director Magda Abu-Fadil used an apocalyptic series of explosions that killed and injured thousands in Beirut as a vivid case study on how to cover hard news for rookie reporters during a virtual basic journalism masterclass.
The training in early August 2020, grouping six journalists at the Saudi daily Arab News' Dubai and Saudi Arabia bureaus, involved covering the basics in a digital, multimedia environment and how to operate under both normal and Covid-19 lockdown conditions.
It was a day after the monstrous blasts at the port of Beirut left over 300,000 people homeless, untold businesses ruined and livelihoods lost from damage to countless buildings in a radius extending well beyond ground zero that was heard as far away at the island of Cyprus 200 kilometers west of Lebanon.
Abu-Fadil had been asked to help with the live coverage and updates leading to her landing on the front page in a double byline story in the paper on the day of the masterclass.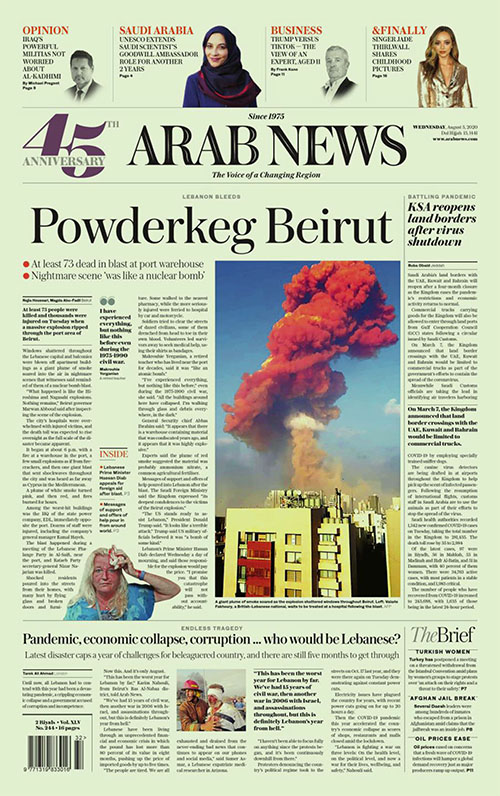 She kicked off the mini course by telling her charges journalists aren't novelists, they should report straightforward facts in a language understood by their audience(s), they must use research and investigative abilities, as well as the right tools and skills to build their stories, they must distinguish facts from dis-, mis- and mal-information, and, they must learn to multitask in a digital multimedia, often online/distance environment.
The training began with a definition of news and what makes a news event important enough to be published, broadcast and disseminated widely.
Abu-Fadil then delved into story structure, how to cultivate one's niche and provided practical advice about reporting. But equally important, she said, are the elements of grammar and punctuation, which can either make a story stand on solid ground or sink it.
She then focused on the lead, nut graph and quotations, adding that good leads convey the most critical information, which is important for readers in a hurry and reminded them that stories are increasingly being read on small screens.
The next step is the nut graph (or graf), in which journalists must tell readers not just what happened, but what it means and why they should care – the "so what?" question.
Strong quotes bring a story to life and engage the reader, Abu-Fadil said, adding they should be dispersed through the narrative.
In a component on headlines and captions, Abu-Fadil said journalists should know their audiences and tailor their headlines to appeal to readers they'd like to attract.
She said captions were often the first elements of a publication to be read and should provide readers basic information needed to understand photographs and their relevance to the news.
She used case studies, videos and other visual elements to discuss news sources, media ethics and interview skills.