Media Unlimited director Magda Abu-Fadil conducted a mini-course on strategic communications and media crisis management for Yemeni members of NGOs aimed at promoting their respective peace-related messages and mitigating crises.
The intensive three-day virtual workshop in July 2020 required participants to first think like journalists, operate like "mobile journalists" (mojos), and meet pressing news deadlines to appreciate what media needs are.
They also learned about the elements of news stories, how not to fall for misinformation, disinformation and malinformation, and, the art of writing news releases for various platforms.
One session was dedicated to organizing news conferences, briefings and events, with all the logistical, technical and editorial details involved in putting them together.
A key element in dealing with the media is the interview, and Abu-Fadil demonstrated the skills needed to handle questions under pressure, ground rules for attribution, what to wear, how to sit and act in front of a camera, tone of voice, body language, and the need for excellent preparation before any encounter.
The drills included media ethics, setting up a media office and what the role of a spokesperson is.
Another major element of the training was establishing a strong visual identity and using social media effectively to engage with one's various audiences across traditional and other platforms.
The most critical part of the workshop was devoted to handling negative news and crisis communications by being transparent, not disseminating unreliable information, maintaining one's credibility and multitasking under extreme pressure.
The training ended with tips on how to build a strategic media plan.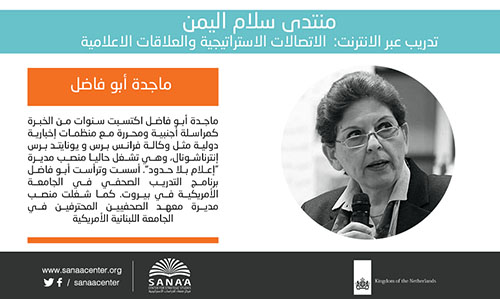 The workshop grouped participants representing a number of organizations across Yemen.
It was organized by the Sana'a Center for Strategic Studies under the umbrella of the Yemen Peace Forum and was sponsored by the Netherlands government.