Should the Arab Free Press Forum (AFPF) maintain its present format or should it change to adapt to fast-moving developments affecting the media landscape?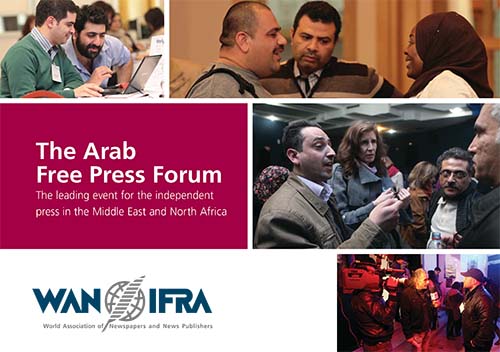 What should the goals of such an event be, who is the audience, and what are their needs?
All legitimate questions discussed at an experts meeting in Cairo in September to help shape the next AFPF, traditionally organized by the World Association of Newspapers and News Publishers (WAN-IFRA).
The agenda included debate on the format and content, synergies and partnerships, financing, funding streams and promotional channels for the next event.
Media Unlimited director Magda Abu-Fadil participated in the meeting aimed at giving shape to a future event for the independent press in the Middle East and North Africa.
Abu-Fadil, a panelist at the fifth AFPF in Tunis in 2012 [PDF] in the wake of successive revolutions in Arab countries, addressed the question: How can the media regain public trust as a credible source of news?
Other participants at the Egyptian capital meeting included Egyptian journalist Fatemah Farag and Aidan White, Director of the London-based Ethical Journalism Network, to name a few.
The Arab Free Press Forum is a unique event that brings together media professionals from across the Arab world to provide a platform for the exchange of ideas, experience and best practice at every level of the news industry.
As part of WAN-IFRA's ongoing commitment to supporting the independent press in the Arab region, the Forum reinforces longstanding engagements with partners from across the media industry and the freedom of expression community.